A heart-shaped island state just south of mainland Australia, Tasmania is home to farm-fresh produce, world-class art and jaw-dropping landscapes.
Tassies are sometimes called "Taswegians," both for the fact that many residents claim Nordic heritage and for their relative remoteness (in the geographic sense, not the social one).
But its biggest city, Hobart — Australia's smallest capital — is in the shadows no longer.
It's the only place in Oz that can claim a native daughter as a bona fide European royal (that would be Crown Princess Mary, whose husband is the future king of Denmark), and its stunning natural vistas have played a co-starring role in films such as the Dev Patel-starring "Lion."
Hobart may be a challenge to travel to, but don't worry — once you're there, you won't want to leave.
The great outdoors
If you're looking for a postcard of Hobart, odds are good that you'll find one featuring Salamanca Market. Open on Saturdays, it's the most-visited tourist spot in all of Tasmania.
Whether you're after a snack, a souvenir or a sweet new outfit this open-air space is the place to go hunting for it — vendors change constantly but include locally made and grown products from ginger beer to glassware.
Most vendors are knowledgeable about which products (like honeys, jams and spices) can be taken out of the country and will be able to pack things for your suitcase.
While in the Salamanca area, don't miss a photo op at Kelly's Steps, the series of sandstone steps that connect the market to the historic waterfront Battery Point neighborhood.
A popular attraction in Battery Point is Arthur Circus, a street of cute cottages that will make you feel like you're in an English village.
To see more of the spectacular Tassie landscape, drive up Mount Wellington/Kunanyi. This mountain is partly residential and served by a single main road, but as you get higher you'll be able to access hiking and walking trails.
The most famous feature on the mountain is the "Organ Pipes," a series of tall, thin rock slabs that look like, well… organ pipes.
A day at the museum
It seems impossible to imagine Tasmania without MONA, the Museum of Old and New Art, which opened its many doors in 2011.
The brainchild of philanthropist, professional gambler and art collector David Walsh (a native Tasmanian), it also holds the title of being the largest privately-funded museum in the southern hemisphere.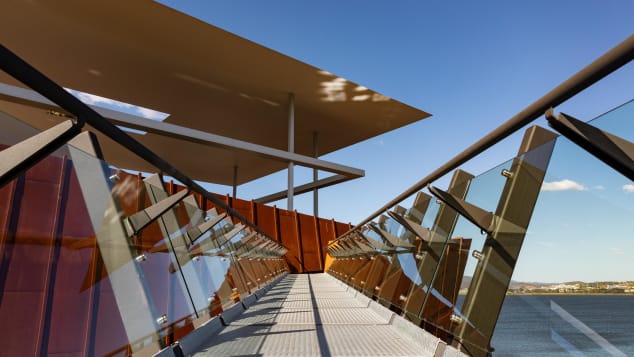 But simply calling it a museum is a disservice. MONA is truly an immersive experience that begins before you even get there.
At Hobart's main pier, visitors to MONA pile on board a camouflage-print ferry, where instead of traditional seats you can opt to sit on a giant neon-yellow sheep. During the 25-minute ride, hipster hosts decked out in boiler suits bring over coffee or cocktails.
Once you actually get to MONA, the fun has just started. Instead of a little self-guided tour apparatus that talks to you about each piece of art, you are handed a custom device with a special MONA app — you'll need this to book times to visit some of the immersive pieces, such as a light room by James Turrell.